plastic is possible to be 50% 10% scaledown.
but..)
 

縮小学入門(私はミニチュア化の研究中なのですが,分かって来た事や疑問を書いて行きた いと思います.) 

ducati diana を 50%小さくできるものか?ドカティダイアナに見る1/2スケールへの道  Is it possible to 50% size workable with riding possibility ?

 way to sanjose 1/2 diana
ed060118 cr110


*発電機 to settle a mini dynamo , in the limited space .... try to find a manufacturer..

Think about tyre . design source , design , moulding and toolings, minimum quantity.. and test.. Kozaru is now prepared with special profile and pattern with oiginal grpfhic design.仔猿では専用タイヤが起こされました. size 90/70-4 に。

もしcr110を50%ダウンするならタイヤはこうなる.Supposing tyre 50% (case CR110 is also impossible into simple minimize , imaginez la CR110 )is downed 50%, a tire will become like this.

think about exhaust ( not comleted)
---
[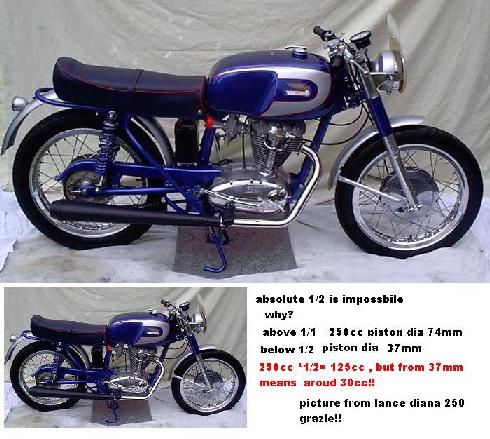 ]
Example 1
One of my favorite bike , Ducati diana 250cc engine has piston which diameter is 74mm and stroke is 57mm
When we make 1/2scale as above below picture this must changed to
37mm and stroke is 28.5mm ,it means 30.6cc.
waoh ,it is so difficult world to scale ..
* tyre 2.75-18 must goes to 1.4-9 , should we make it and invest for moulds ??
---
HOW do you think if we use a 31cc class engine??
Tyre size 4in with outerdiameter 250mm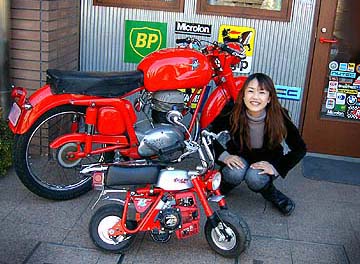 We will start to definit to call this scaling as kozaru way!!??
Dream size is 1/2 ,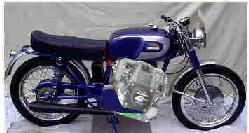 do you feel the possiblity?? we still do not give up it.
---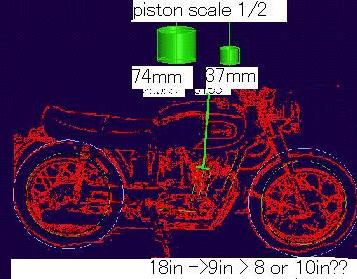 put original CK 2.75-9(8?)tyre
if we have a enough budjet (millions or more) , 31to35cc engine by original and 1.5*9 tyre and wheel and many 50 scale components
cr110 case with 35cc engine modified and 3.00-4 tyre wheel set . designed 2003 as trial.
---
---
[質問に対する回答を入力します。]
---
作成者情報
cr110 is cr110 !! Copyright © [world dreamcomestrue syndicate ] All rights reserved.
最終更新日: 2005/07/28.